Modified Bitumen roofing is an asphalt-based, close cousin of the Built-up-Roof (BUR) designed for buildings with a low-slope roof or "flat" roof structure. Modified Bitumen roofing is an asphalt that has had modifiers added to it to give it plastic or rubber-like properties.
Palm Springs Roofing employs roofing contractors that are experienced with modified bitumen in both commercial and residential applications. Our licensed roofing contractors will install your modified bitumen roof quickly and professionally.
Benefits of Modified Bitumen Roofing
Proven track record of performance
Superior waterproofing characteristics
Broad range of application methods
Wide choice of top-surfacing, including "Cool Roofing" options
With insulation, provides an even better-performing building component
High tensile-strength
Available as part of a fire, wind, and/or hail rated roofing system
Competitive life-cycle cost
Available with flame-free (non-torch-down) installation
Long-term warranties are available with many modified bitument roofing systems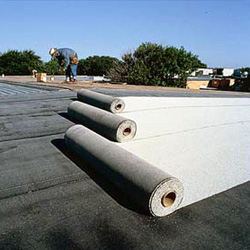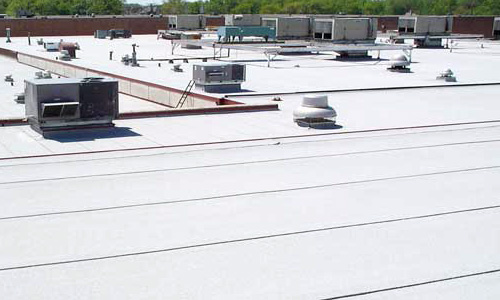 Water-tight and Thermally Sound
Modified Bitumen roofing systems create watertight barriers that perform for many years at a time due to the multiple layers. When built-up, these layers of bitumen exhibit exceptional resistance to conductivity of heat between the exterior and interior of a building. This generates noticeable reduction in cooling costs.
Contact Palm Springs Roofing today to discuss using modified bitumen roofing for your project.